Medford Senior High School


Class Of 1979
In Memory
Rich Graves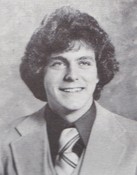 Richard Lynn Graves, 45, was called home to be with the Lord on December 13, 2005. Richard was battling complications associated with the degenerative kidney disease that had put him on the list for a transplant. He suffered a heart attack in his Glendale, AZ home while recovering from recent surgery. Family and friends mourn his passing greatly.
Richard was born in Roseburg, OR as the youngest of Hester and Robert Graves' seven children. His family moved to Medford in the mid-60's where Richard attended grade school and graduated from Medford Senior High in 1979.
After several years living in Springfield and the Portland area, Richard moved to Phoenix, AZ where he met his wife Myrna, created a successful career, earned bachelors and masters degrees, and became the father of his two beloved children. He is survived by wife Myrna, children Tyler (11) and Bailey (7), mother-in-law Daisy, mother Hester and siblings Greg, Loretta, Sandy (all of Yakama, WA), Fred (Eureka, CA), Randy (Central Point), and Roberta (Portland).
He was a light to everyone who knew him - an easygoing guy with a million-dollar smile and genuine personality. Richard is remembered as a devoted Christian, loving husband, father, and a friend to many.