Medford Senior High School


Class Of 1979
In Memory
Kevin Towers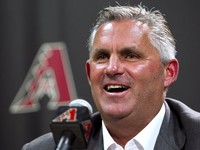 January 30, 2018
Former San Diego Padres and Arizona Diamondbacks general manager Kevin Towers has died after a battle with thyroid cancer. He was 56.
Barry Axelrod, Towers' friend and former agent, told The Associated Press that Towers died Tuesday at a hospital. Towers' wife, Kelley, was at his side.
Axelrod said Towers was admitted to a hospital with fluid on his lungs a few days ago, and friends and family members thought he would be able to go home Tuesday.
Towers was diagnosed with anaplastic thyroid cancer in 2016.
He spent 14 seasons as the Padres' GM, from 1995 to 2009, and he helped build San Diego's 1998 team that reached the World Series.
Padres executive chairman Ron Fowler and general partner Peter Seidler issued a statement, saying "We are profoundly saddened by the loss of Kevin Towers, who passed away early this morning after a courageous battle with cancer. Kevin spent nearly thirty years in the Padres organization as a player, scout, and front office executive. He led our Club with strength, conviction and unwavering determination, and was beloved by all who knew him. Our thoughts and prayers go out to his family, especially his wonderful wife, Kelley."
Baseball commissioner Rob Manfred praised Towers' contributions in a statement. "Kevin Towers devoted his life to baseball," Manfred said. "After playing in the minors and coaching, Kevin spent nearly 20 years as a general manager who was known for great talent evaluation. Kevin built four National League West Championship teams in San Diego, including the 1998 team that went to the World Series. He also won the NL West Championship as General Manager of the Arizona Diamondbacks. In addition to the successful teams he led, Kevin is remembered for being one of the most well-liked individuals in our game whose love of life and baseball will be missed."
Manfred extended sympathy to Tower's wife and family and to Tower's "countless friends throughout our game."
After spending a year as a special assignment scout with the New York Yankees, Towers joined the Diamondbacks as their GM in September 2010 and served in that role for nearly four years. He oversaw the 2011 Diamondbacks team that went 94-68 and won the National League West.
As he spoke last week about being elected to the Baseball Hall of Fame, former Padres closer Trevor Hoffman grew emotional when he mentioned Towers' influence on his career.
Houston Astros manager A.J. Hinch held up a sign honoring Towers during baseball's "Stand Up to Cancer" moment at last year's World Series. Hinch said Towers "means a lot to me" and that he "means a lot to the people within the game for many, many years."
"He's done everything in the game," Hinch said after Game 4 of the World Series. "I wanted to put someone on there that was a baseball person that has resonated across the game at so many levels for so many years, and we just keep rooting for [Towers] to have a recovery."