Medford Senior High School


Class Of 1979
In Memory
Rene Hunter (Marshall)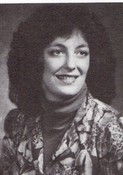 She was born on Oct. 29, 1960, in Medford, a daughter of Wayne and Donna Hunter of Medford. On May 12, 1984, in Medford she married David Marshall, who survives. She lived in the Rogue Valley all her life.
Mrs. Marshall was a 1979 graduate of Medford High School.
She was a member of the Rogue Valley Fellowship Church.
Mrs. Marshall enjoyed swimming, snow skiing, shopping and movies.
Survivors in addition to her husband include her parents, Wayne and Donna Hunter, Medford; a son, Michael, and a daughter, Melissa, both of Medford; and two brothers, Randy Hunter and Rich Hunter, both of Medford.